Ankush
Dhiman
I am an Internationally Certified
Yoga Teacher
I provide Personal Yoga Classes, Online Yoga Classes & Group Yoga Classes
I am an Internationally Certified Yoga Teacher (RYT 200) from Ashmayu Yoga Institute.

My yoga classes are suitable for beginners and intermediate students, who want to practice yoga for everyday fitness, improve their postures and stay regular with their practice.
Why Yoga?
Yoga in itself is a huge subject which has a lot of aspects to study and imbibe in our daily life. Yoga is a cultural practice that can help people connect with themselves and attain a level of detachment which would free them from the activities of the mind and suffering. All the physical benefits are the by products of this practice.

In this modern world lifestyle we may or may not be able to achieve that level of detachment however we can still start somewhere to be good to ourselves physically and mentally and see where this journey takes us.

It is not bad to practice yoga for its physical benefits however we should also make an effort to understand its wider aspect to understand it better and uplift our lives spiritually.

Below are some points that would you to start with your yoga journey…
Flexibility
You don't have to be flexible to start yoga, you become flexible by practicing yoga.
Balance Body and Mind
Practicing yoga with mindfulness helps you relax your mind and body and gives you the feeling of oneness
Develop Strength
Although the goal of yoga is to unite the mind and the body, yoga poses also help you build strength, stay fit, healthy and keep weight in control.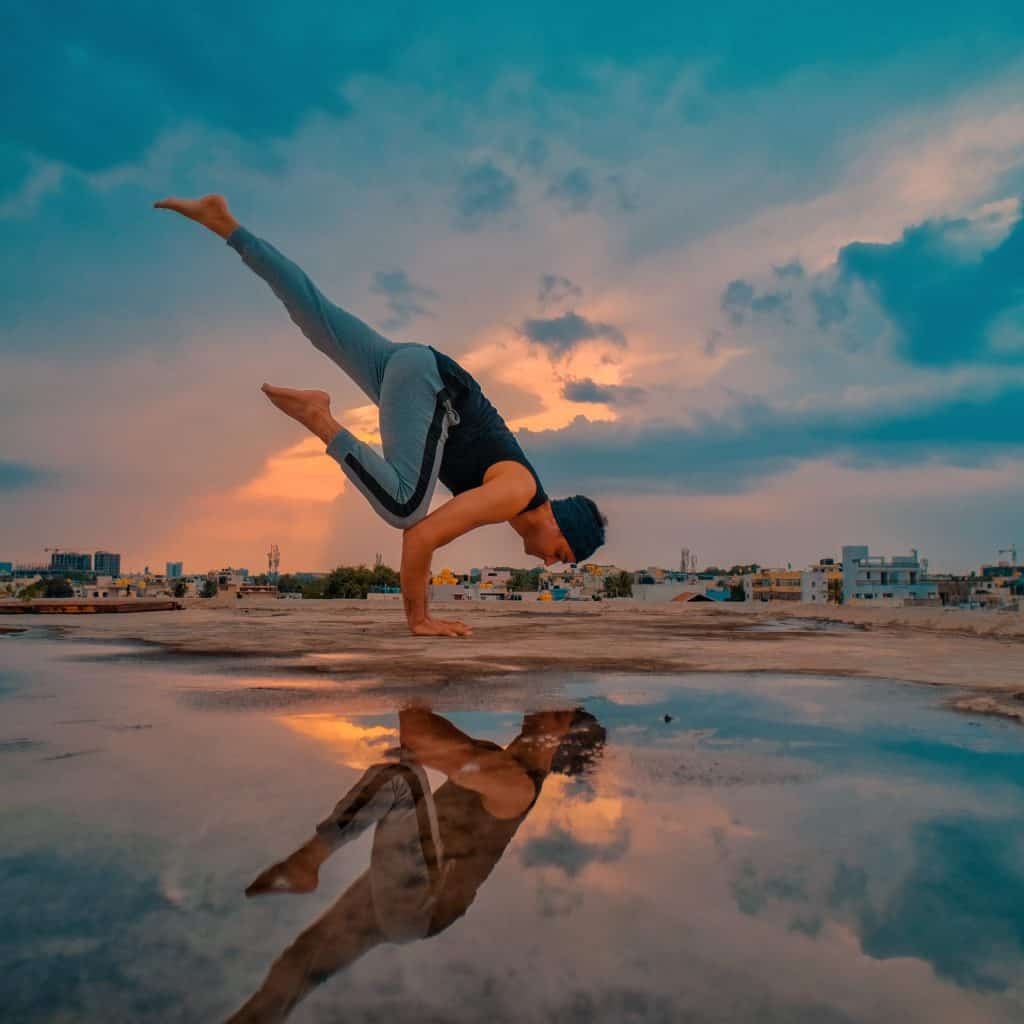 My Yoga Classes
Please choose from the options below to see the details about the class plans
What People Are Saying
Ankush is quite knowledgeable, friendly and helpful. I started with him since January 2022 and really liked his way of teaching Yoga. So far I am quite happy with my level of progress with his help. His services must be recommendable. Keep it up buddy.
Manishita Ghosh
January 27, 2022.
I have been doing yoga for few years now. With Ankush it's just been a few months. But his classes has changed my perception about yoga. The meditation, breathing techniques and slow counting of each posture —- it's a whole new experience about yoga. I feel now my mind body and soul being connected. I don't like to do fast forward yoga anymore… he is so professional and his class conduction is truly amazing. It makes me calm after the class. I am so happy to find him online.
priyanka bhattacharya
September 22, 2021.
I have been attending online Yoga classes with Ankush and I would definitely recommend joining his classes. He is caring enough to correct wrong postures during online sessions and guide you well incase you are struggling at any point during the class being a beginner. Thank you for being such a dedicated instructor.
priyanka shrivastava
July 22, 2021.
I am glad that i started my yoga with Ankush last summer and with each class i experienced more benefits of yoga. He guide us with patience and passion which i appreciate a lot. Thank you Ankush
Diikshaa Namrata
July 12, 2021.
I enjoy classes with Ankush Sir a lot! Having myself resorting to yoga after being infected with covid, I was trying tricky asana's under his guidance but still reminded to not over do myself and take breaks as and when needed.. I feel much better, and have better flexibility. Thank you Ankush Sir for your timely guidance!
Khyati Sharma
May 14, 2021.
I really never thought that I will actually start liking yoga. This is the longest I've probably ever done yoga continuously and yeah, I actually look forward to the sessions, so it's great.
Suchismita sinha
May 1, 2021.
I never thought that I will be able to continue the Yoga sessions when I started it last year..it's been 10 months & am in it ! Was having chronic back issues & Ankush was the savior.. customising my requirements as per my potential ( am too low in stamina).. Ankush is very much persistent with his approach, particular about the postures,detailed information on all the asanas... feel lucky to have him as my yoga trainer...the best part is throughout the sessions, u will have him as yoga buddy rather than the trainer...very much recommended