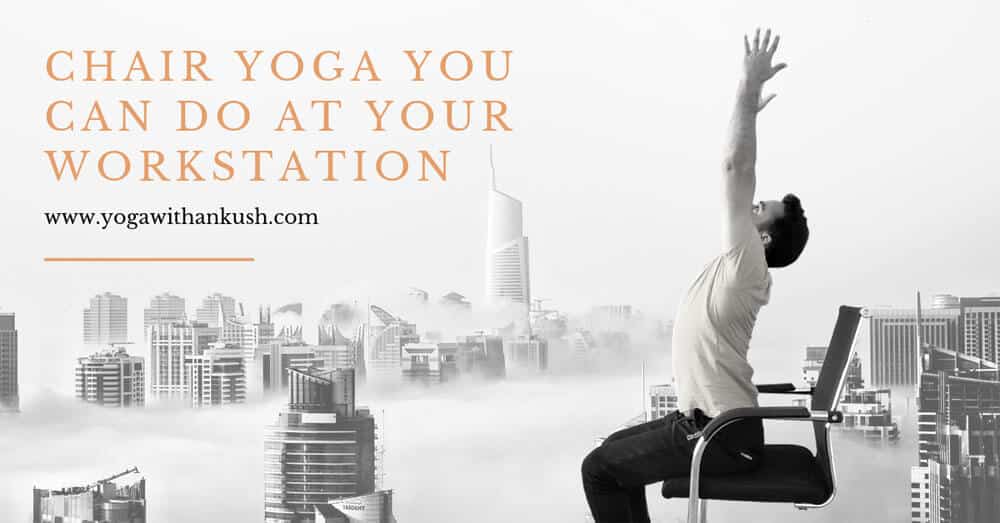 Yoga is known for relieving stress whether it's mental or physical. Today's sedentary lifestyle because of our work causes a lot of mental and physical stress, it may or may not be possible to change this lifestyle however you can inculcate few habits that would help you keep yourself energized, rejuvenated and stress free.
As they say 'a person is as young as his/her spinal cord', it is important to take care of your back. We all know how much stress does our spinal cord take because of our jobs that require us to spend most of our time sitting on a chair.
Here are some yoga poses that you can practice at your desk that would help you keep your spine happy and would help you relieve physical as well as mental stress.
I would suggest you to make this a part of your routine and practice any of these yoga poses or mindful breathing after every one or two hours.
Mindful Breathing
Sit in a comfortable position
Hands preferably on your knees
Close your eyes
Focus on your breath
Your mind will wander, thoughts will distract you
Simply ignore them, do not entertain them and use this as an opportunity to remind yourself to focus on your breath
Use any distraction to remind yourself to focus on your breath
With each breath you take, feel it relaxing your mind
Slowly switch to longer inhalation and even longer exhalation
Relax and be at peace and when you are ready, blink your eyes to open
Seated Back-bend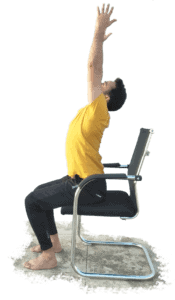 Straighten your back
Inhale and raise your arms up
Exhale and using your upper back bend backwards, hold for 5 natural breaths
Exhale and release your hands down slowly
Back-bend Arch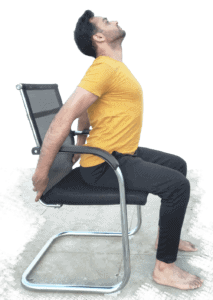 Sit in the middle or the edge of the chair
Hold the bottom of the back rest of the chair
Inhale and inflate your chest out and slowly arch your back up till your shoulder bladed
Hold for 5-8 breaths
Exhale and release
Seated Side Stretch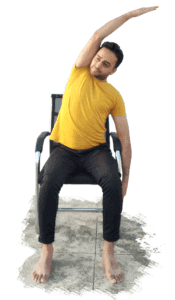 Hold left side of the chair with your left hand
With inhalation lift your right hand up
With exhalation bend towards your left hand side, do not lean in front or back
Stay for 5-8 breaths, inhale and release
Repeat on the other side
Seated Cross Side Stretch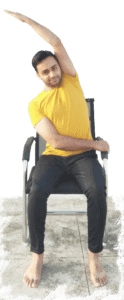 Hold right side of the chair with your left hand
With inhalation lift your right hand up
With exhalation bend towards your left hand side, do not lean in front or back
Stay for 5-8 breaths, inhale and release
Repeat on the other side
Desk Shoulder Opener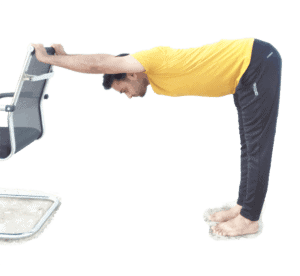 Place your hands on your chair or desk
Bend down till your waist and drop your head down to give your shoulders a nice stretch
Hold for 5-8 breaths
Walk slowly towards chair or desk to come out of the pose
Seated Twist (My Favorite)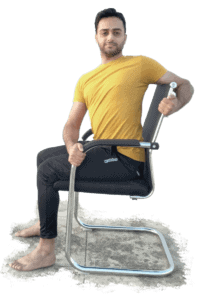 Sit straight, exhale and twist (from your abdomen mostly) to your left hand side
Keep your legs in static position
Hold the backrest of your chair with left hand and armrest with the right hand and keep twisting comfortably, you can look towards your extreme left
Hold for 5-8 breaths
Exhale, release and repeat on the other side
Forward Fold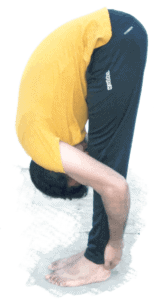 Inhale and raise your arms up towards the sky
Keeping your back straight, with exhalation slowly bend down
Keep your hands on the ground / hold your shin or fold them to hold arms whatever is comfortable
It is okay to bend your knees a little if you are trying to touch the ground
Hold for 5-8 breaths
Keeping your back straight, slowly come back up with inhalation
Total Page Visits: 2872 - Today Page Visits: 2