How to do Virabhadrasana 3 (Warrior 3 Pose) – Steps, Benefits and Contraindications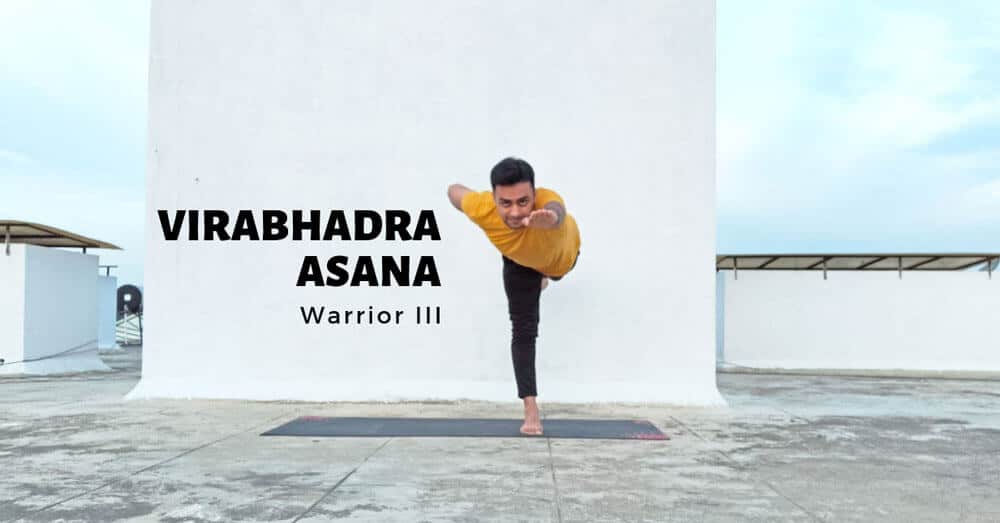 Virabhadrasana 3 (वीरभद्रासन) or The Warrior 3 Pose is a challenging posture that brings a sense of balance and builds strength.
(Virabhadra = Lord Shiva's incarnation / Warrior) Pronounced – veer-ah-bah-DRAHS-ah-nah
Table of Contents
Benefits of Virabhadrasana 3 (Warrior 3 Pose)
Strengthens back, hips, thighs, knees, shoulders, ankles and legs.
Improves a sense of balance, coordination and focus.
Tones core muscles, hips and abdomen.
Helpful for people suffering from sciatica.
Important: Yoga is about uniting your mind with your body and the key to this union is your breath, when you align your breath with your movements it would help you get the maximum benefit of the posture.
Please keep in mind that it is perfectly fine to not go deep into the posture until your body is ready to do so, this takes time and practice and that is why it is important to listen to your body, respect it's limitation and slowly work on them. Do not try to compete with your counterparts or anyone else, that is not the goal. The goal is to live a healthy and stress free life.
How to do Virabhadrasana 3 (Warrior 3 Pose)
Stand with your feet together.
Keep your hands on your waist.
Shift your weight to your left leg and with inhalation slowly start lifting your right leg towards the back and start bending your upper body forward towards the ground.
Keep lifting your leg and bending forward to a level where your right leg and upper body is parallel to the ground. (In case you are not comfortable lifting up, you can stay at a level where you can maintain your balance and keep progressing to next level everyday)
Once your upper body and right leg are parallel to the ground, you can slowly start to straighten your hands towards the front to create one straight line. Keep your palms facing each other, you can spread your fingers.
Try to keep both the legs straight and hips parallel to the ground.
Hold the posture for 3-5 breaths to start with.
Exhale and slowly come back to standing position and repeat the same on the opposite leg.
Contraindications for Virabhadrasana 3 (Warrior 3 Pose)
Not suitable for people with high blood pressure.
People with back, knee and migraine problem should practice under guidance.
Also Read:
Join Online Group Classes
12 Classes a Month
₹1500/-
Zoom video call (Max 15)
Timings
Morning Batch - 7:30 AM IST on Tue, Thu & Sat
Evening Batch - 7 PM IST on Mon, Wed & Fri
Book a Trial Class